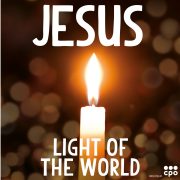 Thoughts
The Ministry Assistant Writes
 As the days get shorter as well as colder we find ourselves rapidly approaching the Advent Season and Christmas.  For many people they probably just think of it as the 'busy' season or 'party' season.  But for us it should be a season of hope and expectation.  A season when we take time to remember that the long promised Messiah and Saviour of all the world has finally come.  He came, not only as the baby in the manger in Bethlehem more than 2000 years ago; but he comes to each one of us who puts our trust in the Lord Jesus Christ, who died for us on the cross and who brings hope to the world.
Christmas is a time of celebration when families are re-united, friends gather together, and we talk of Peace on Earth and Good will to all men.  Words are easy to say, but this year let it be our hope that many people will be inspired to perform acts of Peace and to share goodwill with others.  Most of all, it is my hope and prayer that every member of the family of God, all who are part of the family which is Dalreoch United Free Church, will have the desire and the will to join with their Christian family to celebrate this Christmas.
Wishing you all a peaceful and blessed Advent and Christmas Season!
/
by Colin Rettie
http://dalreochufc.org/wp-content/uploads/2019/11/C4655JPG.jpg
2250
2250
Colin Rettie
http://swandal.mike.mysitepreview.co.uk/wp-content/uploads/2019/04/Dalreoch-logo-1.png
Colin Rettie
2019-11-28 11:43:43
2019-11-28 11:43:43
News
The summer at Dalreoch ended with a very successful social event, 'The Summer Bash!'  It was great to see so many friends and families at this event and well done to everyone who put so much effort into making it such a fun evening.
The nights are now drawing in and this means that many of our events are up and running again.  Apart from our regular Sunday Worship, the Bible Study Group has begun this year's study of Luke's Gospel.  We meet in the Church on Monday evenings.  During August we held 'Coffee Call In' 2-4pm on Tuesday afternoons.  As this opportunity to drop into the Church for refreshments and a chat seemed to be enjoyed by several people, this will continue for September and hopefully beyond.  Anyone is welcome to just drop in and meet new friends and old.  Dalreoch of course is well known for its regular social events and the next one is coming up on Friday 20th September.  It's a 'Beetle Drive'.  Lot's of fun and a great way to get to know people.
Many of us enjoyed a summer in which we were able to get away on holiday or spend time with friends and family.  Sadly several of our congregation have been unwell in recent months, and many do not have families to see, or opportunities to enjoy a refreshing time away.  This is true of many people in the community around us.  So I urge everyone to remember the lonely and the sick around us in our prayers for each other.
Over the coming weeks we have an opportunity to think about those who are less fortunate than ourselves as we approach the time of Harvest Festival.  We will be celebrating Harvest in Dalreoch Church on Sunday September 22nd and this will be an opportunity to contribute food for a local project at St Patrick's Church which provides meals for vulnerable people.  In the words of James, "What good is it, my brothers and sisters, if someone claims to have faith but has no deeds?  Can such a faith save them?" (James 2: 14)  Let us demonstrate our faith by our actions in the coming weeks.
Sara Rettie
/
by Colin Rettie
http://dalreochufc.org/wp-content/uploads/2019/04/P3110141a.jpg
3459
2594
Colin Rettie
http://swandal.mike.mysitepreview.co.uk/wp-content/uploads/2019/04/Dalreoch-logo-1.png
Colin Rettie
2019-09-12 17:34:57
2019-09-12 17:35:50
Message from the Minister